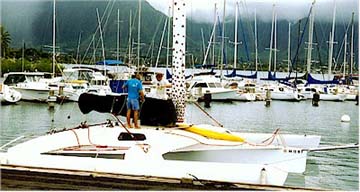 This line of high-performance multihulls will be among the fastest boats anywhere for a given size or budget. A Kurt Hughes Sailing Designs high-performance multi has the most powerful foil designs, the best hardware layouts and easily built hulls that are just the right shapes for whatever the race.
Often, the time and money saved building hulls can be spent on better sail-handling hardware, resulting in even better performance.
High-performance deck hardware layouts usually require a guru to string lines on your deck for a week. With our designs you can already see the computer-drawn Spectra lines running through your to-scale deck hardware.
While the multihull press often ignored Pacific Northwest racing, KHSD multihulls have won many races. In fact, around here, CHAAK has won more races than all the other local multis, including a first to finish in the Swiftsure Classic and a recent Tri-Island race ahead of an F40 cat and a brace of F boats.
Mark Ott's 30' plywood trimaran won the 1998 Labor Day Maui Return Race over a lot of carbon on the following folders. (Read more about it here; you'll need the free Adobe Acrobat Reader if you don't already have it installed.)
Peter Walford just won the Pender Island Regatta for the second time in three years, showing folders the back side of his 15' plywood trimaran, boat-for-boat.
The office boat is a Formula 40 trimaran that I built. How many other design offices actually own a racing multi and use it?